In keeping with the "drilled hole look" that I seem to be exploring on other parts of my 2008 Bonneville (Giving my Gear Shift Lever New Life), I was looking at my plain OEM steel chain guard and decided to experiment with that a bit as well.
I think that the "drilled look" is being inspired primarily by the Joker Machine headlight brackets that I purchased and installed over a year ago.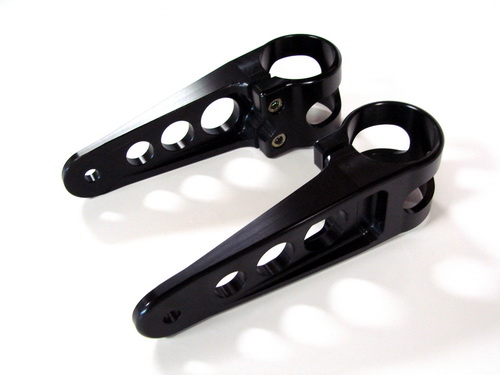 So, first I laid out some circles on the chain guard using a circle template and a pencil, just to visualize things a bit. When I got the sizes and spacing where I wanted them, I center punched each hole and drilled a small pilot hole in the center.
I am using a Makita hand drill, and a titanium – nitride stepped drill bit purchased from Harbor Freight Tools.
Once I had the rear three holes the size that seemed visually right, I then used the step bit to enlarge each of the holes (moving toward the front of the guard), a size larger. There were two reasons for this in my mind.
The Joker Machine holes gradually get bigger
The holes I did for my gear shift lever also get larger
The guard gets slightly wider from rear to the front
March 8-9, 2014 Update
This past weekend I was able to take the next step in refinishing my chain guard. I started with a coat of black Plasti Dip spray to the inside. I think it looks great! Can't wait to get the whole thing sprayed and back on the Bonneville!