2004 Triumph Bonneville - Raw Metal Cafe Racer
790cc - Project Bike 3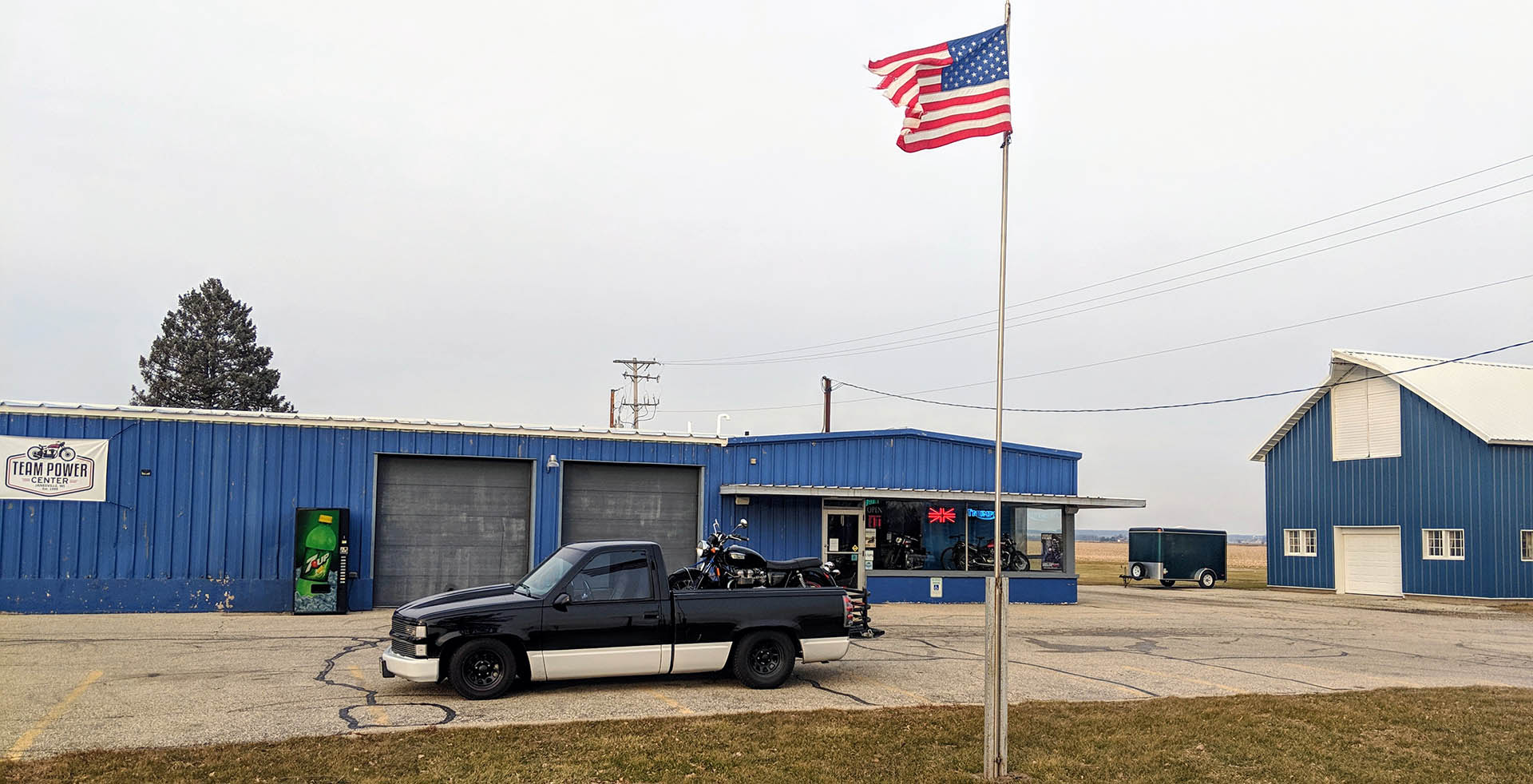 Team Power Center – Janesville, WI – One of the Best Triumph Motorcycle Dealers in the USA!
DECEMBER 26, 2018
Based on previous conversations, inspection, and a handshake, I drove down to Team Power Center in Janesville, WI to meet owners, Todd & Darcy Ligman to purchase a 2004 Triumph Bonneville.
This bike had been purchased at auction some years earlier and was intended to become Darcy's bike. However, since that never happened, Todd offered to sell it to me at a fair price. It has a number of issues:
Bent front fender
Missing right tank badge
Dented headlight bucket
Missing fork lock key
Missing odometer adjustment peg
Tear in the seat vinyl
Missing crankcase breather filter
Other than these few items, the bike looks pretty good and runs well.
In addition:
The Air injection system (AIS) has been removed
A new petcock was installed
New rear brake pads were installed
New Nology coil and spark plug wires were installed
DECEMBER 27, 2018 – MOCKUP
After deconstruction, I started playing around with some ideas for the direction of this cafe racer. So far the ideas include:
Airbox Removal Kit
K&N Pod filters
Bobbed fenders
Number side plates
Single seat or custom shortened seat
New headlight bucket
Drag bars
Bullet style turn signals
Bonneville Brackets custom instrument panel and "Sharky" headlight ears
Drilled shift lever, rear brake lever, front sprocket cover and chainguard
Sun alloy rims and Avon Roadrider tires
Custom taillight
Rejet carbs
Predator exhausts
Wrapped headers
DECEMBER 28, 2018
Further planning, mockups, and ordering of parts continued today. Orders were placed with:
British Customs
New Bonneville
Dime City Cycles
DECEMBER 31, 2018
On the last day of 2018, I spent time cleaning and planning. Tasks included:
Removal of the headers
Strip paint from chain guard and drill 6 holes
Drill holes on right brake lever
Drill holes in the shift lever
Drill holes in the front sprocket cover
Rejet the Keihin CVK carb main jets (#140), and order new pilot jets #42)
JANUARY 3, 2019
More progress was made today.
Continued sanding and grinding on the front and rear fenders and the gas tank
Mockups of possible directions for the cafe racer
JANUARY 4, 2019
Today got up near 40 degrees in the Madison, WI area and was sunny. So, I opened the garage and worked part of the day in and outside of my garage, refining the finish on the bare metal pieces of the project bike. The general process I've arrived at is as follows:
Use a 4.5″ angle grinder with an 80 grit flap disc to remove most of the paint and primer/filler
Step that up to a 120 grit for finer paint/filler removal and smoothing
Use a 6″ wire wheel on a post mounted bench grinder to remove additional paint and filler in crevices and seams
Use a 5″ orbital sander with 150 grit paper to smooth out and refine the metal finish
Step this up to 220 grit for finer smoothing
(There may be additional steps I will take when I get ready to coat the bare raw metal with 2-stage urethane clear coat.)
JANUARY 5, 2019
Another warm day in the Madison, WI area, so again I opened the garage and worked on the bare metal pieces of the project bike.
I used a 400 then 600 grit sanding wheel in my angle grinder, to get an even smoother and shinier finish.
I also used 600 grit sandpaper on my orbital sander to get at more difficult sections.
Additionally, I went through the parts delivery from Dime City Cycles and did the following:
Discovered that the taillight, front turn signal clamps, and billet footpegs will not work on this bike project – so those will need to be returned.
I did however, successfully wrap the headers with the DIE Titanium Black pipe wrap for a pretty nice look.
Follow this page for regular photos and updates as the project develops over this winter.