TriumphBonneville.org is a personal blog site sharing my experiences in owning, modifying and riding a carbureted 2008 Triumph Bonneville Black. I share milestones and experiences with various aftermarket products and services, do-it-yourself garage performance and styling modifications.
I also share experiences in following professional and amateur flat track and road motorcycle racing, and taking my own solo road trips and rides with friends and other enthusiasts!
2007-2008
After a friend gave me a Honda cb750 which I got running and rode around for a year, I traded it in on the purchase of my dream motorcycle… my first Bonneville in July, 2008. I have been riding and wrenching on this carbureted British Twin machine ever since, putting on an average of over 8,000 miles per year. In the 9 years I've owned it, I have logged over 70,000 miles on the Bonnie, minus one full year while it was being worked on in my garage.
2013
In January of 2013 I purchased a 1976 Triumph Bonneville 750 in Madison, Wisconsin. I share about bringing it down to Chicago, making a few modifications and necessary maintenance and selling it in the Spring.
I also include my lowest point… my personal story of a motorcycle accident in November 2013 and surviving with only a broken ankle (thankfully)! I share my physical and mental recovery path, the repairs and modifications to the Bonneville, and the joy of riding once again.
2014
In October of 2014, I purchased a used 2012 Thruxton 900 to ride while I made some major modifications to the Bonneville. I rode it about 8,000 miles in 2014-2015 and sold it in November of 2015 when I neared completion on the Bonneville. During that year I made some modifications to the Thruxton, and share those experiences as well!
2016
In January 2016 I took a road trip to Bonneville Performance located near Daytona Beach, Florida, and spent a week putting a BP race-prepared rebuilt engine back in the Bonneville. Bill Gately, the owner, had converted my former 865cc stock engine into an 1100cc race engine, using the same techniques and technologies he uses in building the Triumph factory sponsored AMA Pro Flat Track Supertrackers. This experience, fully highlighted and detailed in this site, has been the zenith of my Bonneville experience thus far.
2018
In July I moved away from the Chicago area to the Madison area of Wisconsin. I now have a larger garage space that will allow me to work on multiple bikes. So, my first purchase was a used 2006 Scrambler 900 with only 3,500 miles on it.
Summary
This blog contains my personal experiences, practical how-to's, and things to do and not to do based upon my experience with the 2001-2015 Hinckley Triumph air-cooled twin motorcycles.
I hope you find the site helpful and enjoyable. Your comments, questions, and inquiries are welcome!
Randy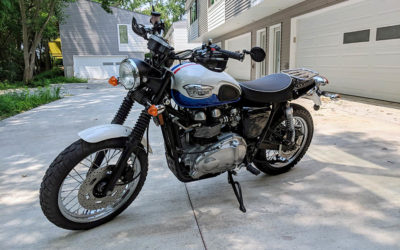 My buddy Scott has a big smile after taking the Scrambler for a neighborhood spin! I found this Scrambler on the Milwaukee Craigslist and went to look at it prepared to buy it on the spot. I'm glad I did. It had only 3500 miles and was in like new...
read more