Project Bike: 2002 Triumph Bonneville - SOLD
SkyBlue / Warm Silver - 790cc - Project Bike 2
COLOR: SkyBlue
Manufacturer – PPG
Color Code: TRIUMPH SKY
Triumph Paint Code: T3120300-JQ
COLOR: Warm Silver
Manufacturer: Standox
Color Code: 269600
Triumph Color Code: T3120300-MD
Summer 2017
I first saw this 2002 Triumph Bonneville T-100 sitting in the driveway of a house down the street from me during the summer of 2017. It had a "For Sale" sign on its windshield. I stopped, wrote down the phone number, and gave them a call. Eventually, I was able to meet the owner's son and take it for a short spin.
It had a number of issues including:
A broken mirror
Bent right front brake lever
Scratches on the right side
A dent in the tank
Bent rear brake lever
Bent right foot peg bracket
Misaligned headlight brackets
Idled really rough and didn't have the responsiveness and power that it should have had
The chain was filthy and caked with grime
Tires were low and not in good condition
Chrome rims were showing spots of rust
This Bonneville had 2,400 original miles on it and had the unusual SkyBlue/Warm Silver paint scheme. I made a realistic cash offer based on all the work and parts necessary to get it back in condition. They gave me a counteroffer that was still too high. The owner had an overinflated idea of its worth in this condition. I gave them a slightly higher final bid and told them if they ever changed their mind to give me a call.
May 2018
After putting this bike out of mind for the winter I saw it reappear again in the Spring of 2018. I knew the owner was never going to sell it for what he was asking, so I called the number and raised my cash bid a little more and told them to call if they wanted to get rid of it.
I finally heard back from them in June just as I was getting ready to move from Illinois to Wisconsin. I met them and took a look at the title, and knew we had another problem. The owner had never titled the bike in his own name. A friend of his had passed away and his wife had just given the Bonneville and title to him. I explained that he could not sell the motorcycle to anyone until he had a clear title in his name. We agreed on a final cash price and that when he had a clear title, I would come back down from Wisconsin and buy it from him.
AUG 13, 2018
I finally heard from the owner in early August that he had obtained the clear title in his name. We set a date and time for the transaction. I drove down from Wisconsin to Illinois in the morning of August 13, 2018, completed the deal and loaded it up in my Chevy "Triumph Hauler" by 11:15 AM. The battery was dead, so the owner had to help me push it up the ramps into my pickup bed… which was a little scary! Thankfully, no mishaps occurred!
After meeting my brother Barry and my buddy Lee for lunch in a nearby Italian Deli, I headed back to my garage/shop in Wisconsin. I had everything safely unloaded and on my shop motorcycle table lift by 3:30 PM.
AUG 15, 2018 – Deconstruction
For several hours I tore into deconstructing the 2002 Bonneville T-100. This included:
Removing the seat and gas tank
Removing the windshield, mirrors, bar-end caps, headlight, and front turn signals
Removing the rear fender and taillight assembly
Removing the chain guard and front sprocket cover
Removing the exhaust silencers and clamps, and footpegs
Removing the rear wheel/tire/axle/chain tension adjusters
Removing the battery, airbox, and carbs
Replacing the front brake lever
Performing a bafflectomy on the airbox
Start cleaning the chain and worst grime-filled areas
Remove the Air-Injection System (pollution control)
AUG 18-19, 2018
This weekend I made some significant progress.
Disassembled the carbs, discovered one was completely gummed with by old gas/ethanol
Cleaned all jets, passageways, hoses, needles, etc.
Reassembled and cleaned outsides of carbs, cables, brackets.
Installed carb assembly back on the engine intake manifolds, and reconnected throttle cables
Installed de-baffled and modified airbox
Remounted all electrical and brake component to airbox
Installed new battery
Cleaned chain, frame, engine… everything!
Degreased and cleaned front and rear tires, wheels and hubs
Degreased front sprocket cover and chain guard
Removed front fender, tire/wheel, brake, headlight ears (one was bent badly), ignition switch, plastic fork protectors
Installed bar end mirrors
Removed rear taillight and signal assembly from rear fender
Installed air injection system plug bolts on engine head
Cleaned and re-gapped spark plugs
Reinstalled gas tank, fuel line
Started it up to test carbs – it runs well!
Parts I am selling from this project bike:
Triumph Summer Windscreen
OEM Chrome Triumph Silencers
Left headlight ear (within ignition mounting hole)
Rear Taillight/Turn Signal assembly
Front Turn Signals
I am ordering many parts for this project from my friends at New Bonneville in the great state of Texas:
Mirror hole plugs
Extended seat bolts – stainless
Front and rear retro style lighting
Fork Gaiters
Air Injection System (AIS) removal kit
Norman Hyde Toga exhausts
Front turn signal relocation bracket
Motone ignition relocation bracket
CRG Bar end mirrors
EBC floating rotor and pads
Other parts are purchased from these sources:
AUG 20, 2018
Today I completed these additional tasks:
Ordered more parts for the project, received new Avon tires.
Removed side reflector adhesive from rear fender using acetone (nasty stuff!)
Cleaned out gas inlet port of flaking and wrinkled paint – contemplated options for the dent repair
Removed and cleaned gas petcock valve of crusty and gummed up deposits
Temporarily installed Predator silencers to judge exhaust note
Installed front turn signal bracket behind finned regulator/rectifier (https://newbonneville.com/shop/front-turn-signal-relo-kit/)
AUG 21, 2018
Today, I worked on the following tasks:
Started testing the Harbor Freight Crossbar Dent Repair Kit to remove the tank dent. Making slow progress.
Mounted Avon 19″ tire on a 19″ alloy wheel and hub assembly I previously had built by Buchanan's.
Mounted a shop vise on my Harbor Freight motorcycle lift table
Ordered new chrome Norman Hyde Toga exhausts from NewBonneville.com
Additional cleaning and corrosion buffing/removal
AUG 22, 2018
Additional tasks completed:
Assessed front speedo bracket and ordered new tachometer
Quick fit new retro-style front turn signals
Quick fit new retro-style taillight and turn signal assembly
I confess I had a couple helpers today (grandsons)!
AUG 23, 2018
Today, I only had time to do a few things:
Connected and tested the new retro-style rear taillight and turn signal assembly.
Connected and tested the new retro-style front turn signals.
Installed the Mule Swingarm Spacers. In the process, I discovered that the swingarm was in dire need of new grease and lubrication.
SEP-OCT, 2018 UPDATE
I was able to sort out the carburetors after a thorough cleaning. With the airbox de-baffled and the inlet snorkel opened up and running a pair of Norman Hyde Toga exhausts from NewBonneville, I ended up increasing the main jets from stock 110's, to 135's. and increasing the pilot jets from the stock 40 to size 42, leaving the needles untouched. The idle mix screws are set at 2.5 turns out. This has produced a strong torque pull in every gear up through the acceleration process, and can easily bring the bike to 80+ MPH in an acceptable time frame. I get 45+ MPG.
I also received a new custom instrument bracket from Bonneville Brackets that ties the OEM speedometer and aftermarket 1.9″ tach together in a very pleasing way (See before and after photos in the gallery).
I swapped out the shift and rear brake levers with ones that I had previously drilled out, tying them visually together with the design of the new Sharky headlight brackets. I plan to do the same with the chain guard.
After riding the 2002 Bonneville for about 900 miles since I purchased it, I find the stock handlebars and controls set up to be acceptably comfortable and visually appealing.
SPRING 2020
I have listed the 2002 Bonneville on Craigslist in Madison, WI and posted it online in Facebook Marketplace. I am hoping to sell the bike this summer. I can deliver the bike to locations in the Madison-Milwaukee-Chicago-Rockford areas.
AUG 8, 2020
Today, is delivery day.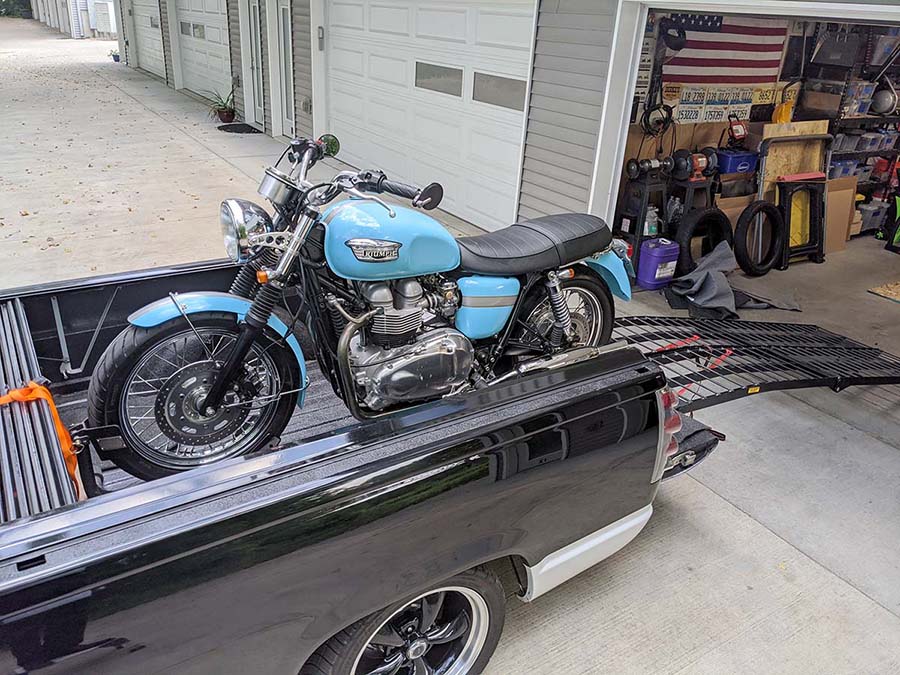 The new owner – Matt! Welcome to the Bonneville owners club!