1977 Yamaha XS650D
650cc - Project Bike 4 - 8637 Miles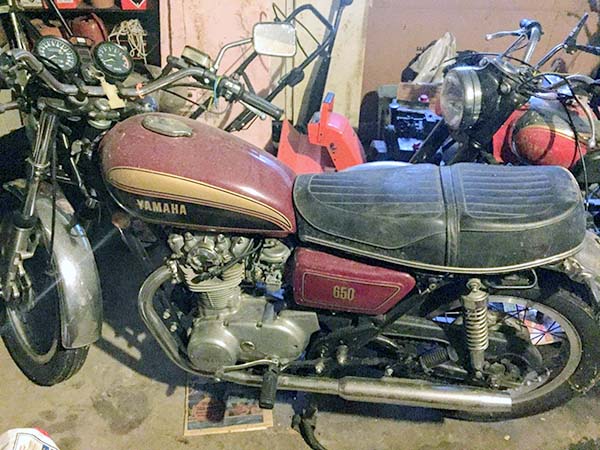 How this bike looked when we first saw it!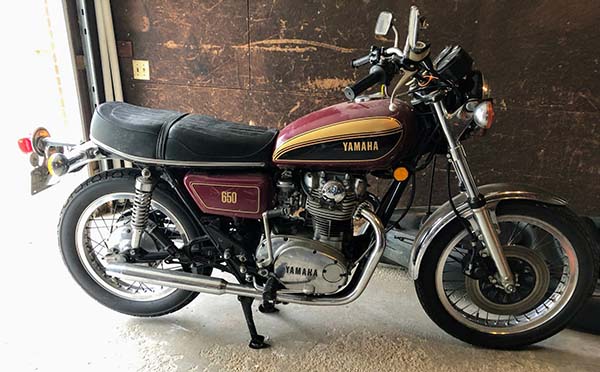 How this bike looked when Scott bought it and walked it over to his garage.
June 2019
After Scott and I tore this bike down, we started researching what we wanted to do with this bike. Scott likes the "brat" look with some "cafe racer" stylings as well.
We decided that the bike needed to first run and then be reliable and safe mechanically. This meant we needed to concentrate on:
Fixing the front disc brake which had no brake fluid and was locked and rubbing on the rotor
A new battery
A new drive chain
A new solid state ignition system
A new start button
Cleaned out and re-sealed gas tank and petcocks and new lines
Cleaned and potentially re-jetted carbs to match the straight-through aftermarket exhaust pipes
New tires and tubes
Misc. other items that may pop-up
We found many of the items we needed online at a site called MikesXS.com…
Front brake caliper rebuild kit
Mikuni Carb Rebuild kits
Ultimate Electronic Ignition with E-Advancer/XSCharge PMA Package
Start button
Front brake switch and cable
Rotor removal tool
Other items we ordered through Amazon…
New Yuasa battery
DID O-Ring Chain
Spark plugs
Header wrap
Shop manuals
Future mods may include:
Bobbing the fenders
Painting the Gas tank
Modify, paint or replace the side covers
Classic bullet-style turn signals and taillight
Brown leather seat
The bike after a few hours of initial deconstruction
June 2019
Install the MikesXS Ultimate Ignition/Charging System
Set the timing
June 2019 – Rebuild the Mikuni BS38 Carbs
Follow this page for regular photos and updates as the project develops this summer!