Taking the Triumph Bonneville 865cc Engine to an 1100cc Beast!
With the help of Bill Gately of Bonneville Performance!
I had over 63,000 miles on my 2008 Bonneville 865cc engine and it needed a valve job. So, instead of doing that only, I decided to send the entire engine to Bill Gately of Bonneville Performance, for a complete engine overhaul and upgrade modification! My final engine will have the same spec's as the BP 1100cc crate engine, including:
New bearings
New oil pump
Billet cylinders with Nikasil lining
BP performance head porting with BP valve train
Crankshaft dynamically balanced
All paper and MLS gaskets
The modified engine, along with the twin Mikuni HSR42 carbs and the BP 2 into 1 Exhaust system should produce approximately 94 HP and 76 ft. lbs. of torque. Bill also had a number of the engine covers powder-coated satin black for me.
Step 1 – Remove stock 865cc engine from 2008 Bonneville frame
This is easier said than done. You basically have to take the motorcycle apart! I followed the steps in my Haynes manual to remove all the parts that connect to the engine including exhaust system, oil cooler, carbs, electrical system wires and components, and subframe members.
STEP 2 – Prepare engine for shipping in a crate
Bill Gately suggested that I contact Johnny Scheff at Motoworks Chicago to see if he had an extra Triumph engine shipping frame. These are angle iron frames that Triumph uses to ship its engines to dealers. As it turned out, Johnny did and was kind enough to let me borrow it.
Saturday, January 3, 2014 Update – Engine removal and mounting to shipping frame
January 4, 2014 Update – Building the Shipping Crate
January 9, 2015 – Engine Picked Up
I was able to secure a decent freight shipping rate through freightcenter.com with Pilot Freight as the carrier. I also insured the shipment through freightguard.com. I took care of everything online, and the truck and driver showed up as promised today.

January 1, 2016 Update
In preparation for my trip to Bonneville Performance later this month, I am using my holiday weekend to get more of the frame and parts ready for the trip and final reassembly. This morning I trimmed 3/4″ off the sides of the rear fender, and 1/4″ off the sides of the front fender. While the Bonnie is apart, I plan to shoot some new coats of Eastwood Rat Rod Satin Black Paint (Item #21857ZP) on these parts: fenders, chain guard, side covers, front sprocket cover, and seat cover. I am considering also shooting the swing arm and the gas tank (not pictured) but leaving the frame in the original factory black.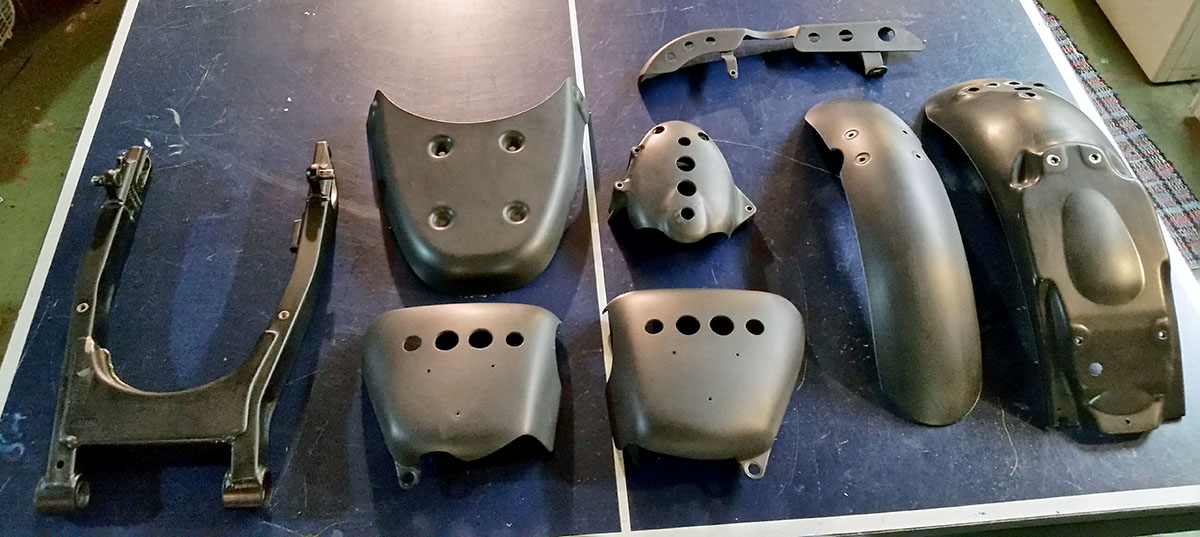 Starting the new year by getting all the parts ready to paint.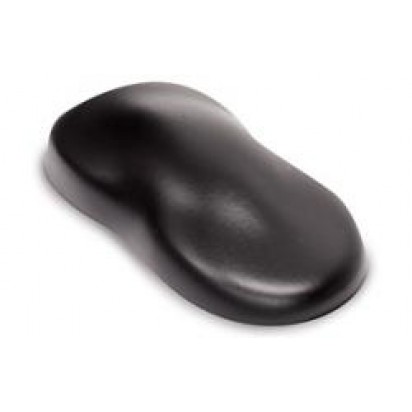 Eastwood Rat Rod Satin Black – #21857ZP
Week of January 25-29, 2016
I loaded up my 2008 Bonneville in my 1993 Chevy pickup and headed down south to Bonneville Performance to install and dial in the 1100cc rebuilt engine.
After arriving at Bonneville Performance, we unloaded the bike, put it on a work stand in the shop, and began the process of installing the engine into the frame.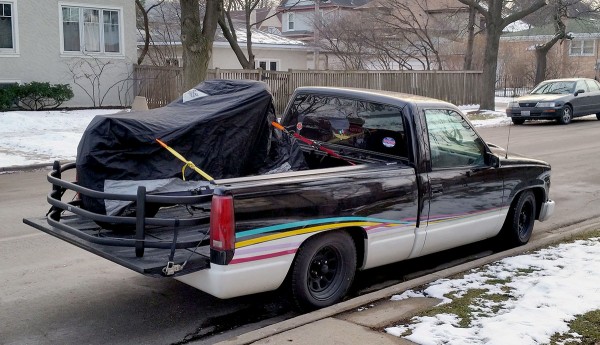 Truck loaded and ready to roll.
January 29, 2016 – First ride with the 1100cc engine!
Having completed the assembly of the 1100cc Bonneville Performance twin back into my 2008 Bonneville frame, heat cycling the engine and doing the final oil change to synthetic Castrol racing oil, I was able to take the bike out for its first spin. I took it for few laps around the streets near Bonneville Performance. A short GoPro video clip is below.
All I can say is… Wow! Amazing! Incredible! How else can I describe the increase in performance? The most noticeable change is the instant response to the throttle and the torque! I am sure a wheelie would be no problem… and that fact that is a bit scary!
February 1, 2016 Update
A little over a year since I began the project, I arrived back home with a fully functional 2008 Bonneville with a high-performance 1100cc engine. A couple of friends helped me unload the bike at home, and it is now safe and sound in my garage.
It still being winter in Chicago, I have a number of smaller projects, modifications and improvements to make to the bike to get it ready to ride in the Spring, including:
Install Sato Racing rearsets
Install 520 chain and sprocket conversion
Final paint color sanding and buffing, including gas tank
New custom badges
Replace and improve fuel lines – Tygon
Install shorter K&N air filter pods
New handlebar grips
New front gaiters
Sort out front brake master cylinder mushiness
Sort out rear shock performance issues
Consider changing rear wheel from 17″ to 18″ dia. to improve handling and suspension performance
May 22, 2016 Update – Dyno Results
I have been able to complete the items on the list above except for the last one, which I will wait another year to do. I am also happy to report that I had a chance to put the Bonneville on a Dyno and had some great results, as shown below.
The outcome is basically 92 HP and 72 ft. lbs. of torque with a power curve that just keeps building, at least all the way to 115 MPH! This matches my riding experience where I have not yet experienced the bike flattening out… at all, at any speed, in any gear. It is truly amazing to ride!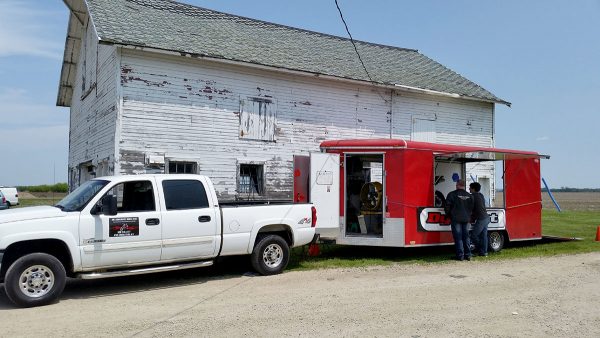 Additional Work Done Since 2016
In the months and years since I completed this project with Bonneville Performance, I have made some additional changes and upgrades.
After more discussion with Bill Gately regarding the initial dyno results I got, he recommended that I go with the Mikuni HSR45's for additional intake capacity. These carbs are 3mm larger in diameter than the HSR42's, but otherwise have the same housing and connections. I went ahead and made that swap and have definitely noticed an improvement in power.
In 2019, Bill told me that he had entered into an agreement with Triumph Twin Power (in the UK) to make a custom CDI unit for his engines. I purchased the Fire Starter with the custom map for the BP 1100cc engine (https://www.triumphtwinpower.com/fire-starter-performance-igniter-unit.php). Wow! What a fantastic improvement that made!
I also upgraded the headlight to an LED unit so I can see better at dusk or at night, or during rain. It really makes a huge difference! This is the unit I purchased: Liteway Headlight. It fit right inside my stock headlamp bucket in place of the original and plugged right into my three-prong connector.
I have also purchased additional diffuser discs for the Supertrapp muffler to tune the exhaust a bit more.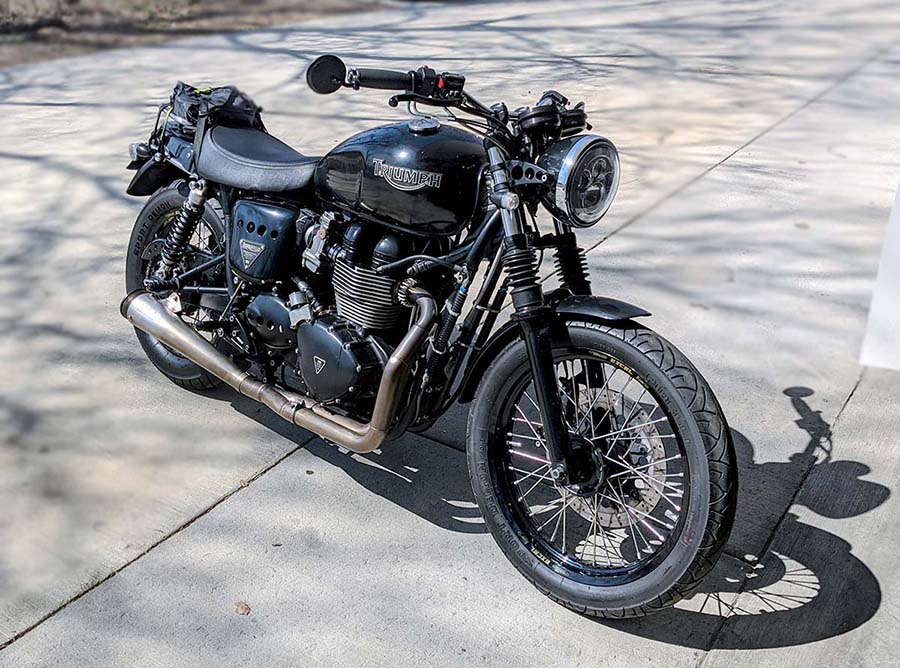 A recent photo that was taken on a ride in March 2020, here in Southwestern Wisconsin.