Project: Adding a Tachometer to an EFI Triumph Bonneville (2013)
By guest contributor: Lee Hoffner
Introduction
So, I ride a 2013 EFI Bonneville (shown below — today was also my first day using my new ATV jack, from Harbor Freight Tools: LOVE IT! Even if you don't need to jack the bike, it's really nice to get your work up out of back pain territory). For 2013, Triumph eliminated the SE model from the line. So, unless you buy a T-100, you don't have an option to get a tachometer on your Bonnie. I want one, so: Enter aftermarket parts!
I had seen that Dime City Cycles had added a new piece of cool kit to their line: their new "Low Pro Speedo and Tach Gauge Cluster", made for the Bonneville, to go with their existing electronic tachometer. So, I ordered these items and they arrived yesterday.
Now, I'm a newbie — both at motorcycling and at tinkering with a bike. I love both activities, but I need instructions to help me with the second one. Dime City provided no instructions for installing the tach, so I had to try it blind. The whole exercise ended up as a basic fit check on the parts, because I had to take it all apart in the end and return the bike to stock state — due to not having everything I needed. Hopefully, this write-up will help others.
Step 1: Assemble the Instrument Cluster
This part was very straightforward. I won't go into much detail, here: the photo captions speak for themselves.
Step 2: Disassemble the Stock Instrument Cluster
My Haynes manual says (chapter 8, section 17): "Before disturbing the instruments, disconnect the battery negative terminal…"
After unplugging the speedometer connector, remove the bolts that hold the indicator housing in place. You'll see another connector for the indicators. This has to be disconnected, too.
Now, you can remove the instrument panel. Those 4 bolts at the bottom of the panel: take an 8mm socket to them. (Bring a socket extension to the party — they're pretty far down.)
Step 3: Remove Indicator Lights (or, "Hey! I'm not going to be able to retrofit these into the new cluster…")
So, this was the bummer moment. I had an inkling when I pulled the second connector that the indicator lights weren't going to be re-usable in the new instrument cluster. That inkling was right.
So, I've got the stock panel off, now. Might as well take it the rest of the way. At the very least, I'll be able to check for any fit problems and ask the guys at DCC what to do. Once I've finished, I'll take everything back to stock.
I bolted the new panel in place (just roughed it in, using 2 of the 4 bolts), to check for fit. It was a bit snug and I have one concern: the brake line is getting pinched, right by the tach. Is it tricky, or easy, to move a brake line?…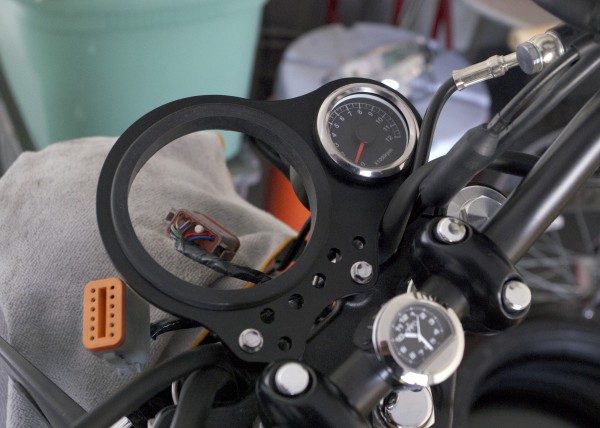 Now, it's time to drop the speedometer in place.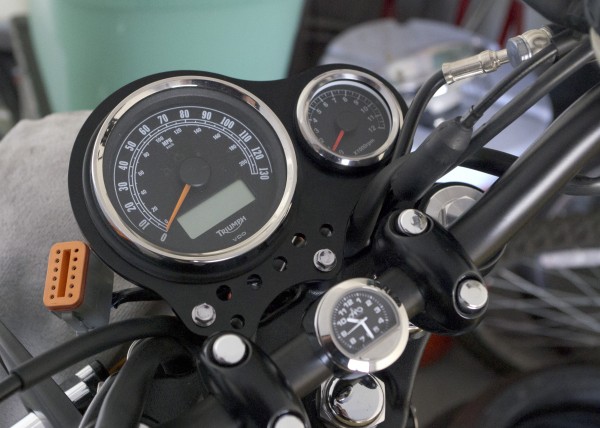 …And to re-connect the speedometer connector. Once that's done, line up the speedometer bolts with the holes at the back of the speedometer housing and secure everything.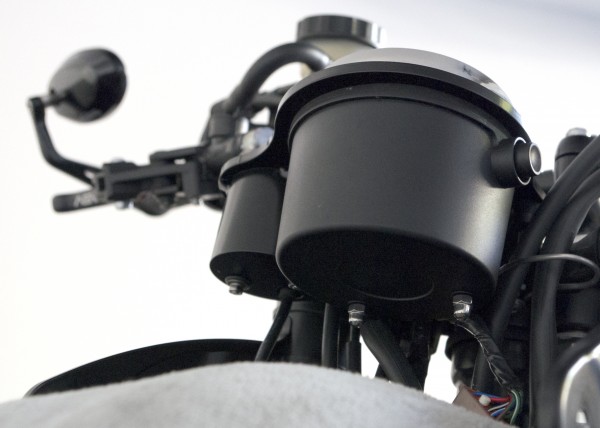 So, I know now that everything fits. Pretty much. Unfortunately, I can't ride without indicator lights. So, I took everything back to stock, after taking this last picture.
Summary: I Need Help
Without the ability to re-purpose the stock indicator lights in the new panel, I'm stuck. I plan to email the guys at Dime City with a link to this post and try to get their help. I bet they have some LEDs that will work well, here. I bet they could also help with the inevitable wiring questions. I'm also going to ask on Triumphrat.net — there are some really wise folks, there.
I do wonder, though, why DCC doesn't mention this on their site. I'm not a spendy kind of guy. But, I would rather learn about the extra parts I need when I'm building my order, instead of later on. Having to place a second order for what I've discovered I need means having to pay for shipping a second time — and shipping isn't exactly cheap, these days, even for the slow stuff.
But, I do love this panel and am looking forward to riding with a new tach — someday!