As followers of this blog know, I was recently in a motorcycle accident that left me with a broken ankle and my 2008 Bonneville in need of some repairs. Once I settled with Progressive Insurance (You know… Flo!), I had some choices as to how I would spend that money.
One of the things I decided to do was to salvage as many of the parts as I could, and use the extra money to purchase some upgrades for the bike.
This salvage included my Joker Machine Folding Bar End Mirrors, which were not broken in the accident, but just scratched up a bit. They actually "folded" instead of breaking off!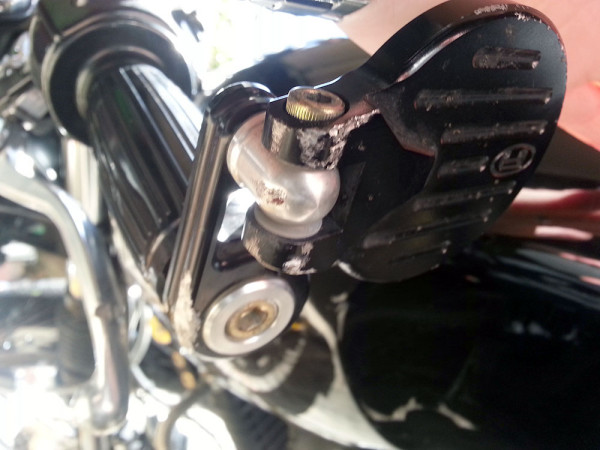 Since bar end mirrors are "sitting ducks" to get banged up anyway (riding in an urban setting), I decided to salvage these instead of spending bucks on a new set.
I took them off the bike, then disassembled them in separate pieces. I used my grinder tool to grind the scratched areas smooth.
Next, I plan to sand and polish the aluminum until completely smooth, and paint or coat them satin black. Then I plan to re-assemble and mount them back on the bike.
March 8-9, 2014 Update
This past weekend I was able to start coating these mirrors with black Plasti Dip by Performix. I really like the satin black finish that it produces.
March 16, 2014 Update
Today I finished coating my Joker Machine Bar End Mirrors with Performix  Plasti Dip and assembled them to get ready for installation on my Bonneville. The finish turned out great… a black matte/satin finish with a bit of texture!