This is the second year in a row that I have participated in Motoworks Chicago's Track Day at Gingerman Raceway in South Haven, Michigan. Happily this year it did not rain as it did in 2012. We had overcast skies, a little sun, but the temperature stayed the 70's so we weren't overheated in our race track safety leather gear.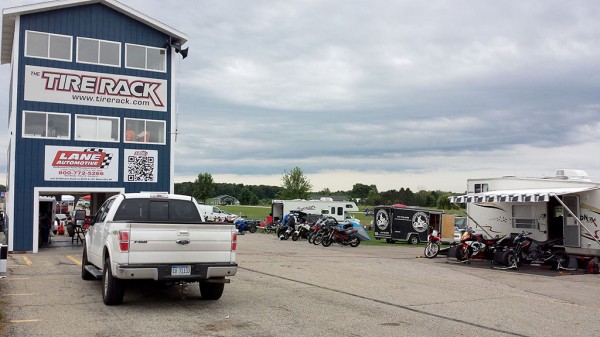 Our Host – Johnny Scheff
Johnny Scheff, owner of Motoworks Chicago (Facebook Page) is a people person, a great host, making everyone feel welcome, at home and there for the main reason… to have fun! He made it clear that it's not a race and that the day was all about learning and growing in your skills and passion for riding.
My Gear
Last year because of the rain, I learned some hard lessons about comfort and coming to a track day prepared. In 2012 my feet got soaked on the ride to the track and as a result I was uncomfortable the entire day. So, this year I came with waterproof motorcycle boots by Alpinestars, and a Speed and Strength full one-piece leather Twist of Fate 2.0 racing suit from Sportbike Track Gear. Underneath, I had on some layers of Cycle Gear's "Heat Out" underwear, and some wool hiking socks. I also upgraded my helmet from the Shoei TZ-R I had purchased in 2008, to the new Shoei GT-Air.
Our Instructors – Sportbike Track Time
Johnny does not run the technical or training aspects of the day. Instead he hires in a group called Sportbike Track Time who provide the experienced instructors, technicians and track organizers for the day. These folks are very impressive and really know what they are doing. They give you good group sessions and you can approach them one-on-one for personal feedback and tips. The fee for the day is well worth it!
This year I went in the "Intermediate" group since I was in the novice group in 2012. My group leader was Dennis Baker. The most memorable quote I heard from him was, "In 95% of the situations that you get yourself into on a motorcycle, being on the gas will help get you out of them. In the other 5%, at least it will end the suspense."
I was on the track with my leaders and group for 20 minutes out of each hour for 7 sessions throughout the day. We had a midday break for lunch supplied by Motoworks. On the track I worked on choosing my "line" around the track, selecting visual reference points as to when I would brake, corner and accelerate to achieve the most efficient time around each lap. I learned that the best track time is not as much about going fast as it is about learning to select the best line and staying consistent.
My Bonneville Performance Upgrades
I had made some changes to my 2008 Bonneville since last year, as documented on this blog site. The main performance upgrade (probably responsible for 15% more HP) was the replacement of the OEM Keihin CVK carbs with the Mikuni 42mm flat side racing carb kit from Bonneville Performance. I had also given my Race Tech front suspension new fork oil and bushings. These along with the change in timing controlled by the Procom ignition control unit, adding a heavy duty Barnett clutch, and Avon Roadrider tires gave me a definite performance boost compared to 2012.
The Highlight of My Day
In my last 20-minute session of the day, many members of my group had already decided to call it a day (this is physically demanding activity!), so there weren't as many riders on the track. I was working on my line and running my best laps of the day, feeling really confident and good about what I had learned and my skill improvements. Then a guy on a larger Ducati snuck up on me and passed me on a straightaway. I couldn't catch him on that straight, but realized while following him through the next lap that I could corner much better and faster. I waited for a safe opportunity (within the rules of the day) to pass him. I got my chance coming up to a right hand turn at the end of the longest straight section. He went wide to my left and I held my speed close to 100 MPH a little bit longer to pass, then did a hard brake and took the inside of the curve, passing him safely in the process. I made sure he never had a chance to catch me after that!
GoPro Video
To top this off, my friend Jordan Horras had mounted his GoPro digital video camera on my handlebars just before this last session. If you have never seen one of these cameras or the great video they capture, you should check out their website. As a result, I have the entire experience I just described on video! Hope you enjoy watching these edited versions!
I highly recommend this event to anyone who wants to improve their skills, confidence and safety while riding a motorcycle.