I Try Dunlop Roadsmart II tires
As previously noted, I recently purchased a 2012 Triumph Thruxton 900. It had only 137 miles on it and the original Metzeler tires. I noticed right away in riding it that the tires do not grip and handle as well as the Dunlop GT 501's on my 2008 Bonneville. Unfortunately, the GT 501's are being discontinued by Dunlop, and finding a set for the Thruxton would be difficult. So, I went back online to see if there was a recommended alternative.
I found this article by Jacob Moss on the RideApart website with tire recommendations for the Triumph Bonneville Modern Classics. In it he reports the recommendations of Adrian Packett, owner of Canyon Motorcycles.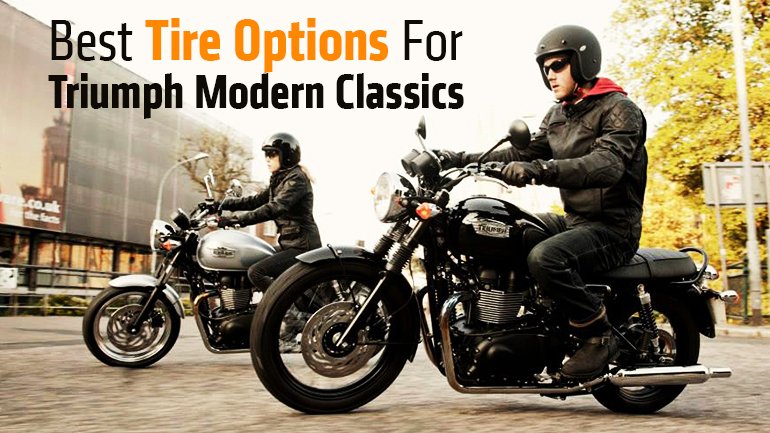 Based on this article, I decided to try the recommended Dunlop Roadsmart II for performance. I ordered the tires through Amazon for a reasonable price = $119 for the front and $125 for the rear. I also ordered a tire changing tool and motorcycle attachment from Harbor Freight Tools.
Yesterday, I changed the front tire – 110/80ZR-18.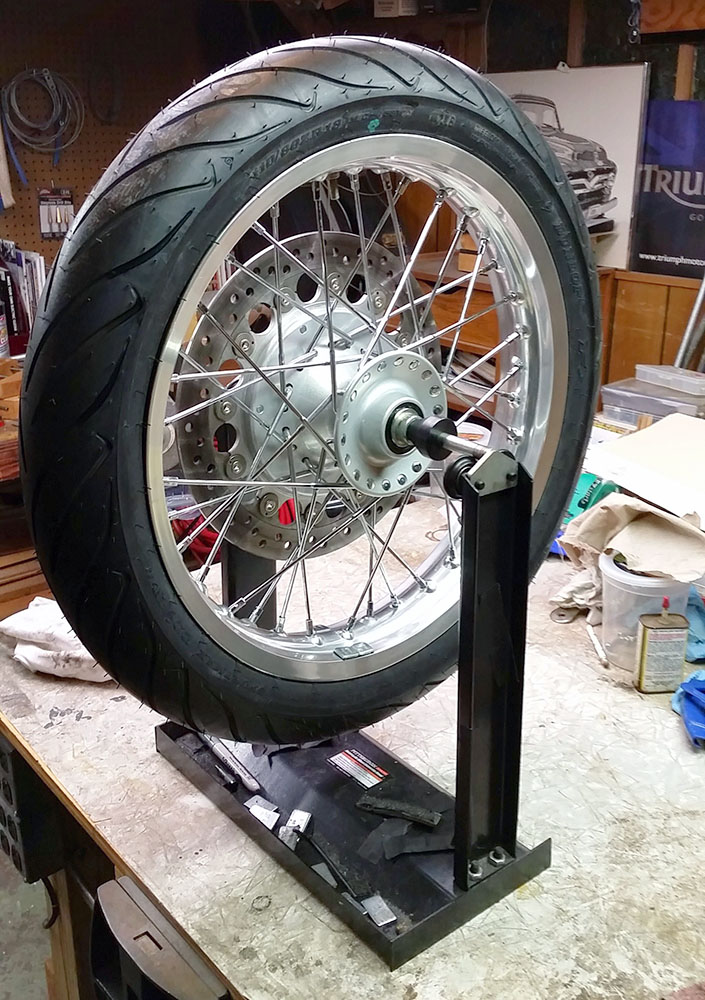 Dunlop Roadsmart II mounted and being balanced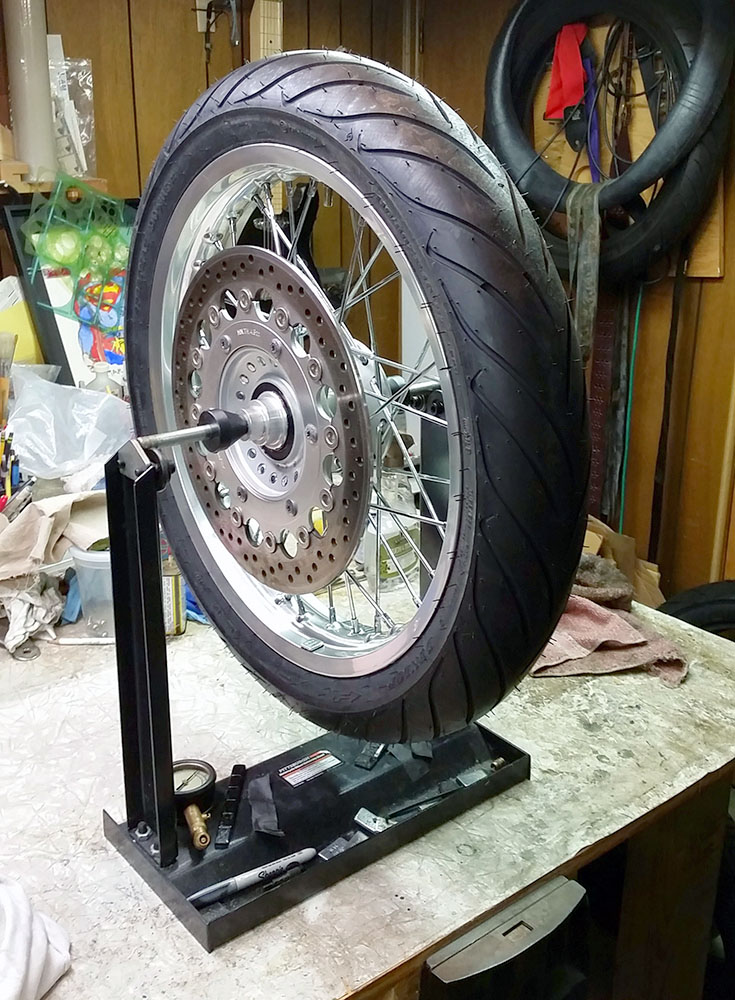 Dunlop Roadsmart II front tire balanced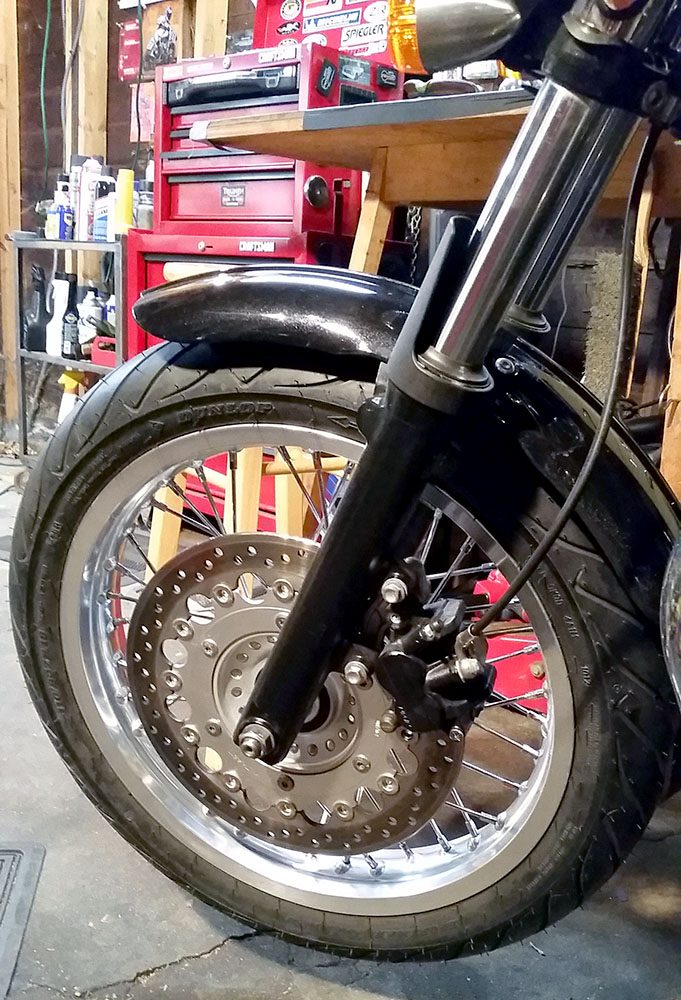 Dunlop Roadsmart II mounted on Thruxton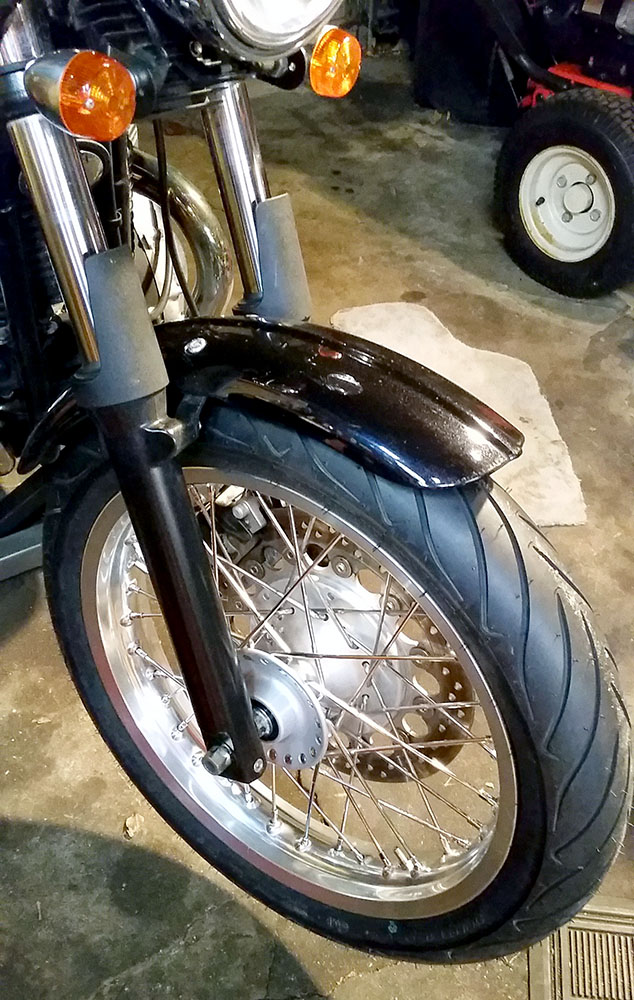 Dunlop Roadsmart II front tire on Thruxton
Harbor Freight Manual Motorcycle Tire Changing Tool Setup
Here are a couple of handy videos on how to use this tool, and modify and improve it.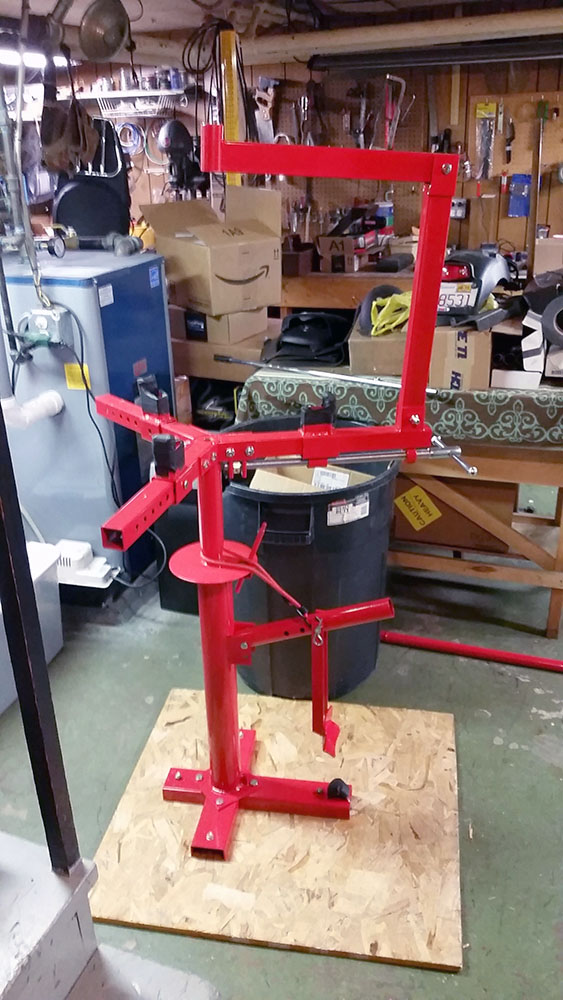 Harbor Freight tire changing tool setup
January 1, 2015 Update
Today I was able to mount the rear Dunlop Roadsmart II tire (150/70-17) on my Thruxton. The 150/70-17 size is noticeably wider than the stock 130's. I like the look better than the stock size, and it fits fine on the stock rim size and inside the frame. In a few weeks, I will report on my experience comparing these tires with the original Metzeler's and my experience with the Dunlop GT 501's.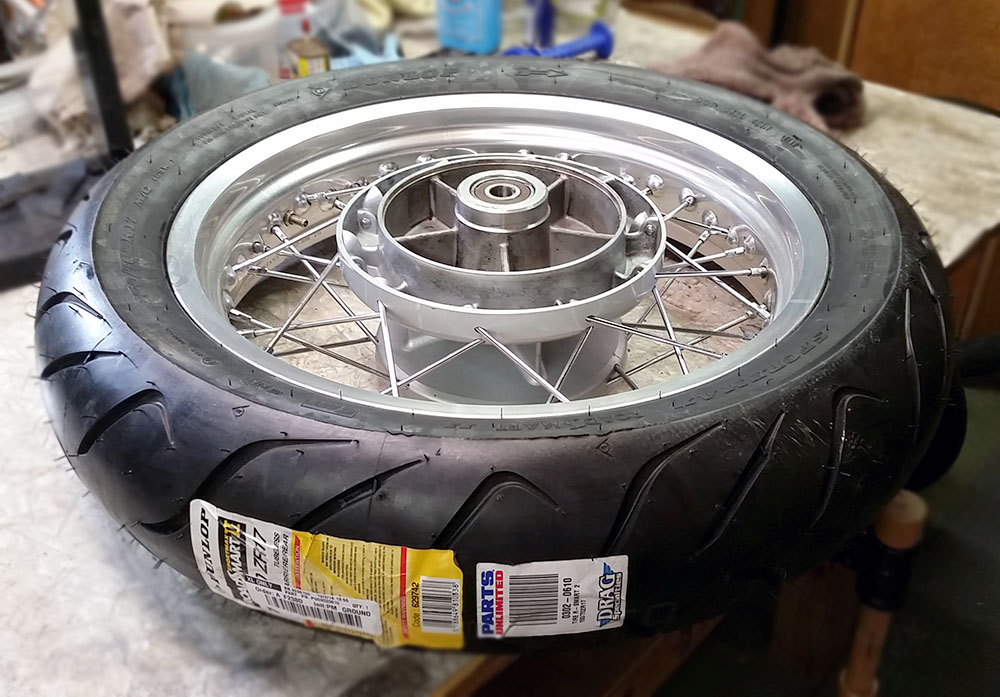 Dunlop Roadsmart II rear tire mounted on stock Thruxton wheel.
Dunlop Roadsmart II Update
It's been several weeks since I completed the mounting and balancing of the Dunlop Roadsmart II's on my stock Triumph Thruxton wheels. Although the weather in Chicago has been spotty for motorcycles, I have been able to put on a couple hundred miles. My impression is that these grip the roads around Chicago better than the OEM Metzeler's and there is less side-to-side slipping on wet or damp roads. The tires are smooth and quiet at higher speeds and I feel confident with them.
I would have to say that so far, these seem to be a good replacement for the Dunlop GT 501's that I had come to prefer, and that Dunlop no longer makes. So far I would rank the road tires I have experience with as follows:
Dunlop GT 501 (no longer available)
Dunlop Roadmaster II
Avon Roadrider
Pirelli Sport Demon
OEM Metzeler