I received an email from a new follower of Triumphbonneville.org today. His name is Casey from Melbourne, Australia. He shared with me how he found this site and is enjoying the articles. Below is Casey's Bonnie he was kind enough to share.
He also told me that yesterday, his favorite parts supplier in Melbourne (Bike Mart Ringwood) messaged that his new custom wheels had arrived. He is thinking of getting Heibenau K60 tyres fitted to the wheels to achieve the 'look' he is after.
I like how it looks so far and the 2 into 1 exhausts. Can't wait to see it with the new wheels and tires! Keep us posted Casey!
Post Easter 2014 Update
Casey sent me this photo of the new hubs, spokes, rims and tyres he just received.
Casey says he decided to go with Michelin Anakee2 tyres instead of the Heidenau K60's because he was advised they will wear better on the bitumen roads around Melbourne.
Casey, those hubs look just like the Talon hubs I have on my new wheels, and the rims look very similar as well. I think you are going to be pleased with the lighter weight and increased responsiveness!
Here's an update from Casey – a photo of his new Arai Rxq helmet sitting on his Bonneville.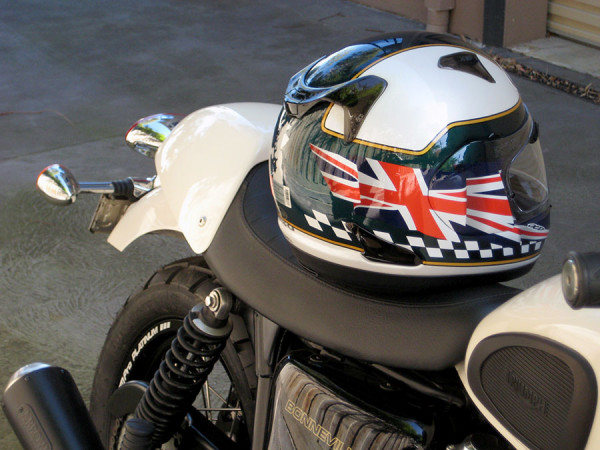 You can see the Michelin Anekee rear tire tread pattern and part of the SM pro platinum alloy rim. Unfortunately, the weather has been dismal in Melbourne so he has not been riding much… just taking nice pictures like this one!
Hope the weather improves soon so you can ride that nice Bonnie, Casey!
October 6, 2014 Update
I received an email from Casey with some updates from down under. It's springtime down in Australia and he's ready to ride his Bonneville with all the latest upgrades which include:
New black wheels and hubs
An EBC floating front rotor
Triumph Leather and Waxed Cotton pannier bag for that real old school look
Keep up the great work Casey… and enjoy your springtime rides while we start our long Chicago winter!