I replaced my factory original lead-acid battery the summer of 2011 when it failed on a road trip around Lake Michigan. Since I was on the road, my replacement options were limited, and I replaced it with a sealed low maintenance lead-acid option from Batteries Plus.
Fast forward two years to the present and I had been noticing my bike becoming harder to start and realized it was caused by the battery losing its ability to hold a full charge. So, I visited a local Triumph dealer to check out the options.
Standard Lead-Acid Option
At first I was presented with the standard replacement option, a lead-acid battery made by YUASA at a cost of about $90 plus tax.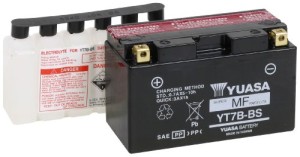 The Lithium Battery Option
I asked if there were other options and was presented with a lithium battery made by EarthX for about $220. Here is a specification comparison chart between the EarthX lithium battery and a standard lead-acid battery.
In addition to this, it was pointed out to me that the EarthX battery can take any kind of battery charger, unlike many of their competitors where you have to buy a special charger made by the battery manufacturer (Shorai, and others).
So based upon this comparison including the incredible difference in weight, I purchased the EarthX battery.
Installing the EarthX Lithium Battery
Here is what was in the packaging of the EarthX battery I purchased. There was the battery, instructions, a sticker, and a number of black foam pads with adhesive peel-off backing.
Next I removed my lead-acid battery and pre-fitted the EarthX to see how it would fit.
For new readers I should note that I have removed the standard airbox that includes a battery box, and replaced it with an aluminum battery box made by British Customs. I have also replaced the standard regulator rectifier with a Mosfet style (the finned object to the left). You can read earlier posts to learn more about these modifications.
You can see that the EarthX fits well inside the box leaving a little over an inch of space toward the front of the box. This was good news for me as I wanted to mount my Mofset regulator within the box as well. The provided foam pads allowed me to raise the smaller EarthX battery so that the terminals were more accessible, and to put some padding between the battery and the regulator.
I found the extra terminal bars with extra screws and holes provided by EarthX to be very helpful in mounting the wires for my bike. I used the main terminal positions to attach the main battery leads and my trickle charger leads. I used the extended bar terminal to attach the Mosfet regulator leads.
Once I had everything remounted, rerouted and in place I tested the lighting and the ignition. The lighting worked fine and the bike started up just fine.
With the testing completed, I went ahead and tidied up everything and put the seat back on.
Lithium Battery Summary
I am very pleased with the performance of the new battery thus far. My bike is starting right away and all lighting and electrical parts performing as they should. Because the discharge rate of this type if battery is so low, I do not need to use my trickle charger at all. Here is a page that talks about recharging this type of battery should it ever be necessary.
Time will tell if the life and performance of the battery will meet the specifications as printed on the box! So far, so good.
December 18, 2014 Update
It has been a year and a half since I purchased this battery in July 2013. I had no problems with it all this time installed in my 2008 Triumph Bonneville (above). Recently I moved the battery into my 2102 Thruxton since my 08 Bonneville is being worked on. It had been sitting unused in the Bonnie for a couple months. It worked fine for a day or so. Two days ago it would not start my Thruxton. So, I am currently in communication with Earth-X, trying to find out what happened and how I can remedy the situation. Stay Tuned!
DEC 31, 2014 Update
To answer the question/comment below, I did get this issue resolved. Although the CTEK charger I had was a "modern" one, it was not compatible with a Lithium battery. So, I purchased a CTEK (56-926) LITHIUM US 12V Battery Charger through Amazon Prime for $97.37. I charged the EarthX Model ETX18B battery overnight and it seemed to do the trick, restoring it to a full charge. I think there may have been a small drain on the battery as it sat in my unused 2008 Bonneville for a couple months.
In the meantime, I purchased another EarthX Lithium (Model ETX18C) my 2012 Thruxton from Motor Cycle Center in Villa Park, IL… a Chicago area Triumph Dealer. It started up my Thruxton this morning after it had sat 2 days in my garage at temperatures below freezing. I rode it into work this morning!