As a part of my 2013-2014 winter 2008 Triumph Bonneville post-accident repair and modifications/upgrade project, I am looking at my stock wheels and thinking… if there was ever a time to do an upgrade, this is it. The reason being that based upon previous research, most wheel upgrades involve sending your stock OEM hubs in to the wheel vendor for the rebuild. Of course you can't ride your motorcycle while this is in progress!
So, since I can't ride anyway (until my ankle is healed and spring arrives), I decided to renew my wheel/hub options and get some prices for final comparison and decision making.
Option 1 – Bella Corse Talon Hubs and Excel Rims
On the BellaCorse.com website, Michael Selman offers Talon Aluminum Hubs with Excel Rims and stainless steel spokes and nipples as complete replacement wheel assemblies: http://bellacorse.com/bcc203-4.htm
So, I contacted Michael and discovered he has a set of wheel assemblies in stock that are comprised of anodized black Excel rims and anodized black Talon hubs with stainless steel spokes and nipples for $1,600 plus $100 shipping.
Option 2 – Buchanan's Spoke & Rim Rebuilding
Buchanan's Spoke & Rim is regarded as one of the top motorcycle wheel builders in North America. My friend Bill Gately at Bonneville Performance uses Buchanan's to build wheels for Triumph Bonneville models, as well as the racing Super Trackers and Street Trackers offered on the Bonneville Performance website.
In emails with Buchanan's sales department I have learned I would need to send them my stock hubs first. They could have them powder coated black at a local shop. Then they would rebuild me two wheels as follows:
Sun black anodized aluminum front rim (2.75″ wide): RSWM419 = $230 + $44 for anodizing = $274
Sun black anodized aluminum rear rim (3.5″ wide): RSWM619 = $261 + $44 for anodizing = $305
(36), 6-8 gauge stainless steel spokes w/nipples (front) = $116
(40), 6-8 gauge stainless steel spokes w/nipples (rear) = $129
Powder coating my 2 stock hubs = $TBD
Plus shipping and handling = $TBD
Availability: TBD
TOTAL ESTIMATED COST: Currently $824 plus powder coating and shipping. This option will probably end up being over $1,000 total.
Decision Time
So, which way should I go?
I like the idea of having a complete new and separate set of wheels. I could potentially use different tires, one set for the highway and one set for track or racing.
On the other hand, I go to a track day maybe 2 times a year… not really enough to justify a complete separate set of wheels and tires. Besides, I'd really like to use the lighter wheels and hubs all the time… both on the highway and at the track!
Plus, I could probably sell the extra stock wheel assemblies to help offset the cost of the Talon/Excel option.
January 22, 2014 Update
I decided to go with the Talon hubs and Excel rims set up from Bella Corse. Part of the decision was made based upon the idea of selling my stock wheels to offset the cost.
I will need to use the rear sprocket carrier and rubber cush drive from my stock wheels to fit into the Talon hubs. Because the sprocket carrier is silver, I plan to paint it black to match the Talon hubs. The front hub will also accept the stock speedometer drive assembly.
I also ordered a new set of tires and tubes. I went with the suggestion from Michael Selman of Bella Corse and am trying the Dunlop GT 501's in sizes 100/90-19 for the front and 150/70-17 for the rear. Michael claims that these tires are a favorite of racers in the Triumph Thruxton series and enable one to get a nice wide tire on the rear that fits the stock width rim.
January 23, 2014 Update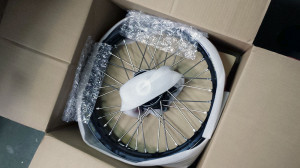 I love coming home from work to see boxes on my porch! Today the Talon/Excel wheels arrived.
I unpacked them and set them up on my shop bench for these first photos. Can't wait to mount the tires and then the new wheels on the Bonnie. Come on Spring!
Update February 16, 2014
I was able to successfully mount the new Dunlop GT 501 tires on the new Excel/Talon wheels and hubs yesterday using just hand tools.
I've also decided to keep my old wheels and hubs, and rebuild them with new Sun alloy rims and stainless steel spokes and nipples from Buchanan's. I'll write a new post on that project.
March 8-9, 2014 Update
This weekend I was able to get another step completed in the process of preparing the new wheels for use on the Bonneville. Because I have decided to keep my OEM wheels and hubs, I wanted an extra rear sprocket carrier. The reason is that I could have 2 different rear sprocket sizes… one for street and one for track days.
So, I sourced a good used one from RubberSideUp.com for $36 and prepared it for paint.
I've decided to try a spray product by Performix called Plasti Dip. It's essentially a rubberized spray coating that is tough and yet can be peeled off most any surface it is sprayed on. I really like the satin black finish that it produces. You can get this product at Home Depot for about $6 per can.
Here is what the sprocket carrier looks like after one coat of Plasti Dip has dried. I'll probably do one or two more coats.
March 16, 2014 Update
Today I completed spraying the rear sprocket carrier with black Performix Plasti Dip. When dry, I removed the masked off areas with the help of an X-acto knife.